Shopping Cart
Your Cart is Empty
Thank you for your business!
You should be receiving an order confirmation from Paypal shortly.
Exit Shopping Cart
RT24 GROUP TRAINING PROGRAM
STUDIO 365 introduces 6 WEEK PRIVATE GROUP TRAINING
Using the specialist RT 24 program and our in house coaches and dietician to deliver a program to change and sculpt bodies.
SCIENTIFICALLY PROVEN




MEASURABLE PROGRESS AND RESULTS

TIME EFFECTIVE - EACH SESSION LASTS 24 MINS ONLY (+ WARM UP & COOL DOWN)

FUNCTIONAL - DESIGNED TO INCORPORATE ALL THE IMPORTANT COMPOUND MOVEMENTS YOU WILL BE COACHED ON CORRECT FORM TO REDUCE INJURY AND MAXIMISE RESULTS

COMBINES HIRT (high intensity resistance) & HIIT (high intensity interval) TRAINING IN 3 WEEKLY SESSIONS TO DELIVER HIGH VOLUME/ LOW LOADING TRAINING WHICH PUSHES MUSCLE TO FATIGUE.

CALORIE BURNING, FAT BUSTING AND TOUGH!

YOU WILL DEVELOP LEAN MUSCLE AND COMPLETE YOUR 6 WEEKS LEANER STRONGER AND TONED

BODY FAT, BODY WEIGHT AND MEASUREMENTS ALL TRACKED

CALORIE CONTROLLED EATING PLAN PROVIDED

ONE TO ONE SESSIONS WITH OUR DIETICIAN PROVIDED TO REGULATE EATING TO SUPPORT TRAINING AND WEIGHT LOSS.

RESTRICTED NUMBERS IN PRIVATE GROUPS

FLEXIBLE ! TRAIN 3 SESSIONS PER WEEK - THERE ARE 7 AVAILABLE SESSIONS FOR YOU TO CHOOSE FROM TO SUIT YOUR SCHEDULE

MONDAY 06.00 & 20.00

TUESDAY 20.00

WEDNESDAY 06.00

THURSDAY 20.00

FRIDAY 06.00

SATURDAY 08.30

CHOOSE ANY 3 SESSIONS PER WEEK BOOKABLE VIA OUR APP (SEE VIDEO BELOW)

COST £150 (non

refundable)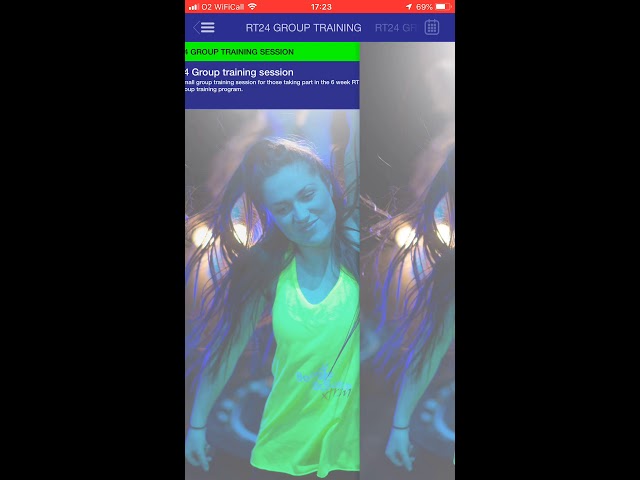 How to book your RT24 training course
Follow the video to book your RT24 private training slot and begin your journey to a new you.
THIS CREW HAVE DONE IT....CAN YOU?
SOME OF OUR PREVIOUS RT COMPETITIORS.....CAN YOU RISE TO THE CHALLENGE ?
Laura, RT24 competitor April 2019
0

/